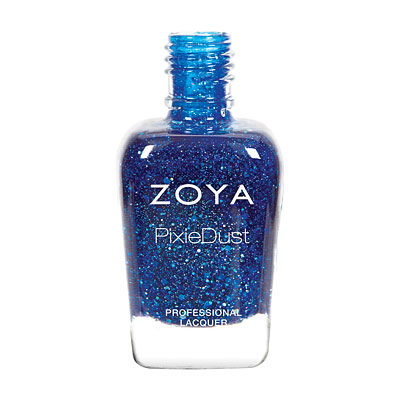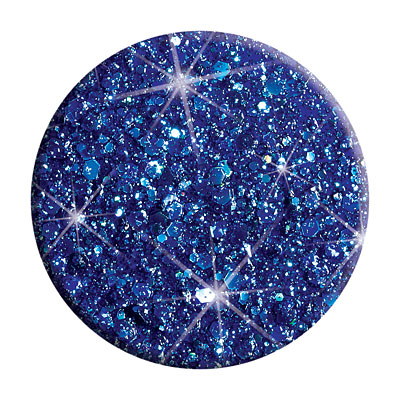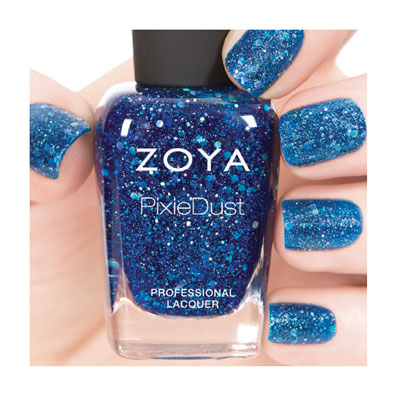 Nori - Magical PixieDust - Textured
Description
Nori by Zoya can be best described as a sapphire blue Magical PixieDust - Textured with holographic hex glitter, perfect for any holiday festivity!
Nail Polish
Color Family:
Blue
Finish:
PixieDust - Textured
Coverage:
2 - Coat Coverage
Tone:
Cool
Instructions
For Best Results: The special PixieDust - Textured Formula is not intended for use with a base or top coat. Apply two coats of your favorite PixieDust - Textured shade to a bare nail prepped with Zoya Remove+. Wait for each layer to dry in between coats.
Shade Spotlight
Shade Spotlight Join our community - Tag your photos #EverydayZoya for a chance to be featured here!
View the Gallery
Ratings & Reviews
36

Review

s

Please sign in to write a Review



TManx
-SaN Diego, CA
Consumer Review
-Hmmmmm...
2022-04-15
I`m surprised not as many people appear to share my experience with Daisy... It felt very watered down, and even after 4 coats I never got the "Daisy" yellow tone I was after... Never ended up wearing it.
I don`t hold a grudge though; Zoya is my favorite brand!
YldPsyD
-Central Cal
Consumer Review
-Classic black for nail art
2021-05-02
Willa is a cool onyx black cream that looks clean and makes nail art pop. Willa is a classic black cream that's a must have for those who enjoy nail art.
-Not my favorite
2020-02-14
I love Zoya polishes, but Arianna is a disappointment. From the get-go the particles were stuck to the inside of the bottle. Nothing removed them. Put it on & it looks like glittery jelly, not the pictures. Requires multiple coats to come close to looking like the pictures.
-beautiful black
2019-10-28
looks like photo
Leslie
-Pennsylvania
Consumer Review
-Absolute favorite
2019-01-13
This is my favorite nail polish by far. It was the first pixie dust I tried and I fell in love with the texture, sparkle and color. The color is the perfect classic red with just the right amount of the smaller, more grainy glitter and some larger hex glitter of the same shade. It reminds me of Dorothy`s ruby red slippers from The Wizard Of Oz. The sparkle is not over-the-top because the glitter matches the color of the polish. You have a classic red with subtle flash and a bit of dimension and texture as a result. For those wondering, I don`t find that the texture makes this catch on my clothes or fabrics either. I lightly file down the ends of my nails after the polish dries and that smooths out the ends as well. Polish lasts a week with a few touch-ups and would last longer if I didn`t want to change it up. The texture allows for easy touch-ups too. You can`t even tell there was a touch-up. Lots of compliments on this one and highly recommended. Please always keep it around.
bubblegum
-USA
Consumer Review
-LOVE IT
2018-07-12
I only use Zoya polish...I have long, natural nails...and Zoya last a long time between change..Rayne is a favorite for my toes..the color is like a tropical water...I use the Vega on one or two other toes..the combo is great
Anonymous
-Seattle
Consumer Review
-Wow!
2018-01-29
It was a little scary to put on at first. The first coat was kind of pink and looked glossy instead of pixiedust-like. It dried quickly and felt like pixiedust after that. The second coat... wow. The first coat "grabbed" lots of glitter from the brush and achieved opacity very quickly. My nails dried hard and look gorgeous. Love this shade very much. :)
hdonaldson3
-WV
Consumer Review
-Leslie
2017-09-16
I wanted a soft purple or lavender color and decided on Leslie and Hudson. What beautiful soft colors and they flatter each other. Leslie has beautiful sparkle of turquoise. Both apply smoothly with no streaking and look great against my light, cool tone coloring.
BooLaRue
-Florida
Consumer Review
-Pics don`t do it justice!
2017-07-25
Rayne is such an absolutely beautiful color! It`s a very multidimensional Robin`s egg blue, a very "mermaid" kind of color. Gorgeous!
-You need this!
2017-05-07
This is my absolute favorite color to use when I want an edgy neutral. The combination of glitters is stunning. It blends but stands out at the same time. It is so unique. I would love more colors like this!
@sarahs.nail.endeavors
-Oregon
Consumer Review
-Perfect Pastel Blue
2017-02-13
This is one of my first purchases from zoya! And I`m so thrilled that I got it! It applies beautifully in 1-2 coats.
-So pretty!
2017-01-26
Rayne is a very pretty shade! Perfect coverage in 2 coats. Nice shiny light blue color perfect for spring and summer. Can`t wait to wear it!
Izzie
-Nashville
Consumer Review
-First Zoya Nail polishes
2016-12-14
I got my first set of Zoya nail polishes and Rowan was the first one I tried. I love the satin finish! This is a very unique neutral shade and goes great with my capsule wardrobe. To me it`s more of an earthy brown based grey. I`ll definitely be adding to my collection.
-LOVE!
2016-08-05
This is honestly one of my favorite Zoyas, and one of my favorite colors of all time, from any brand. It is beautiful and stunning on any skin tone. Bottle shot and colors on the website are pretty close to what you`ll see on the nail.
FYI, I have seen photos of this color on other people`s sites/blogs that make it look as though Binx is very similar in color to Harper (the bright pink from this same collection). It`s not. Binx is definitely more purple-leaning, while Harper is a bubblegum pink. I have both and they are very different. And I love them!
-Cool Summer Color
2016-06-30
Love this color! It`s beautiful on toes for a tropical vacation. Pops against black sandals. This is my go to shade to get me in the summer chill mode.
lorelei
-southeastern PA
Consumer Review
-pretty translucent buttercream
2016-05-18
This polish seems thin/runny and requires at least 4 coats to eliminate streaking and translucence. (This is common with yellow paints of various kinds.) I used 3 coats and still can see where the whites of my nails start. I topped it with Shimmer to even it out and give a soft metallic rosy-gold finish. Dried quicker than some other Zoya shades/textures. Better coverage would earn it a higher star rating.
Jerimi
-Eugene, OR
Salon Review
-Pinkish
2016-04-04
I found it to be a bit pinkish, and provided less coverage than the other PixieDusts I`ve tried. It takes a solid three coats. It`s a great color for holiday manicures.
Jess17
-Oklahoma
Consumer Review
-Pretty in pink!
2016-02-27
I have olive toned skin and this is the prettiest pink for my skin. It isn`t as neon looking as the picture shown on the web a little more muted. Full coverage 2 coats are perfect. This color is very good for spring and summer.
Liz
-Maryland
Consumer Review
-My favorite so far
2016-02-18
I really love this color. It is my favorite so far as and it works with formal office wear as well as with casual outfits. The shimmer and variation of the color is really nice and gives it a more modern look. If I am in a hurry, even one coat does the trick.
-Great!
2016-01-31
I love this color! I would call it gray and not blue. I really like the satin finish, it reminds of a chalkboard finish with paint. I am wearing Tove and Sage right now and they are close enough in color its not obvious I have two different colors on.
cuevasprepaid25
-california
Consumer Review
-very vibrant color
2016-01-21
This color stands out. I`m very happy with this purchase.
barstr7
-Warwick, RI
Consumer Review
-Amazing
2016-01-20
Somehow the beauty of this just doesn`t translate to photos. I`m a huge purple polish fan and this is pretty unique to my collection. It`s a rich metallic somewhere between grape and plum. And holy cow does it glow! Photos just can`t capture how warm and lit-from-within this looks in real life. And there`s little to no streaking, unlike most metallics. And like most Zoyas, the wear time is amazing, especially for a darker color.
lvaclarinet
-Las Vegas, NV
Consumer Review
-Love it
2015-12-16
Beautiful color on my cool skin tone. I love the satin finish; it seems to dry more even and quicker than other polishes tried. You really only need one coat. Very pretty mauve/pink color
-Love this color
2015-11-14
Lovely color
Kathy P
-Sun City Center, FLorida
Consumer Review
-Color?
2015-10-27
Very durable!!! Awesome. Color is pinky-purple. Heavy on the purple side not too much mauve. Not my choice as I seldom wear purple. Managed to drop the bottle on our tile floor, not on purpose. It went everywhere! Totally smashed the bottle. Was lucky to quickly remove polish from tile and grout. Whew. It did stay on the bathroom rug. Oops!
Poodlemom1213
-Charleston SC
Consumer Review
-Beautiful dust of glitter
2015-09-15
I love this Nori for an accent nail on a blue mani.
Glazed
-Dallas, TX
Consumer Review
-Blue not green
2015-09-10
This polish is a blue, probably a light grey blue it is not a green except maybe a tint of light green. If you are looking for a Tiffany color it is too light. I have purchased Wednesday to replace a color that is close to Tiffany. I like blue polish so I will wear it but it is not my favorite blue, Blu is my favorite thus far.
Trendin` in Texas
-Dallas
Consumer Review
-Love It!
2015-09-10
It took me a couple of hours to decide how I felt about this formula, and now I love it! For starters, it is closer to grey than to the brownish hue that showed up on my monitor when I purchased it. It is thick, so it`s not the easiest to apply, but this was my first Zoya purchase, and I feel that with practice it will look more even. Overall I really do love the satin finish, and I`ve already received compliments.
CeeCee
-Kansas
Consumer Review
-Great Neutral Color
2015-07-24
This color turned out great and I like the satin finish. Works well for the office or anywhere you`d like to keep things understated.
KerryTea
-NJ
Consumer Review
-Great color/great finish
2015-07-23
The Satin finish is really unique looking; and I`m very happy with the color. Goes on smooth in one coat. Definitely want to get the Satin finish in more colors.
Vivian
-East Texas
Consumer Review
-Beautiful color.
2015-07-22
This such a beautiful, delicate color. It has an opalescent quality to it. I have cool undertones to my skin, and this color looks really nice on my hands.
Lee
-Irving
Consumer Review
-Zoya Rayne
2015-05-31
This is a beautiful color! I would have to say that I feel the picture is a bit brighter than the actual color, but that could also just be the batch. Also, it`s not quite a full coverage that it claims. I used three coats to fully cover my nails, when typically using their scale, a 5 will cover with 1-2 coats and a 4 usually takes 3. Overall, this color is still really pretty, but I did knock it down for the coverage scale. I highly recommend if you are looking for a spring-y blue.
steph
-california
Consumer Review
-Perfect
2015-04-20
This color is so beautiful for spring! Excellent formula as usual...The bluish sheen adds a wow factor to an already perfect lilac color.
DebbieG
-Buffalo, NY
Consumer Review
-one of the best
2015-03-08
This polish is a beautiful color. It is very similar to Marina. I keep my nails short and this color looks great on them. I see this as a year round shade.
ammazon99
-Tampa, FL
Consumer Review
-New Ruby Slippers
2015-02-13
Oswin is just flat out gorgeous! Opaque in two coats, to a berry-red finish. I think the subtleness of red micro to medium large glitter makes this a very classy lacquer for a special evening out. Upon my boyfriend seeing this for the first time said, "I see that you`ve found Dorothy`s Ruby Slippers!" How awesome is that for a product endorsement?
mediasandy
-media, pa
Consumer Review
-Robins-Egg Blue
2015-02-07
Soft, yet intense, pastel. Great for beating the winter blues & will look stunning as Spring begins to unfold. Goes on well, does not chip; with one touch-up, I was able to wear it for a week & I use my nails--I don`t baby them.
Add a Review
Review Guidelines
We want to publish your review.

Please avoid inappropriate language, personal contact information, other brands, and external links.