Page top
Skip top navigation
Professional Accounts
Licensed salon & spa professionals can set up a Professional Account which entitles them to professional only pricing, professional only promotions and additional educational and marketing resources available to our salon & spa customers.
If you already have a Professional Account with us, please sign in below with your email and password in the "Sign In to My Professional Account" section.
To create a Salon - Spa Professional Account, please enter your email and a valid Cosmetology License in the section called "Create a Professional Account" below and click the "Create Account" button. You will then be asked for additional information.
Sign In to Your Professional Account
Create a Professional Account
Welcome!
Please Choose One:
Or
Back to top
feedback
tell us what you think!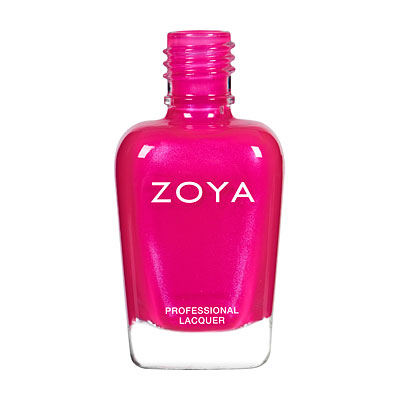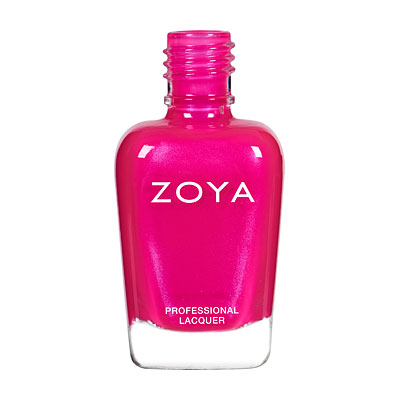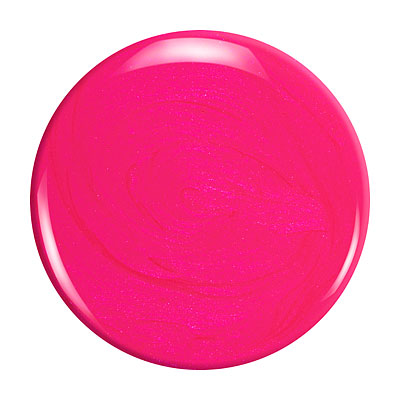 Lola by Zoya can be best described as an ultra-bright fuchsia with a slight blue-violet duochrome shimmer.
Please note: Neon pigments may vary slightly from batch to batch
Color Family - Pink
Finish - Metallic
Intensity - 4 (1 = Sheer - 5 = Opaque)
Tone - Cool

For Best Results
Step 1: Clean the nail plate with Remove Plus ( Remove ) nail polish remover and nail plate cleaner
Step 2: Choose and apply the right base coat: Zoya Anchor for regular healthy nails or Zoya GetEven for nails with ridges
Step 3: Apply 2 coats of your favorite Zoya Nail Polish Color
Step 4: Apply a coat of Zoya Armor Top Coat
Step 5: Drop one drop of Zoya Fast Drops to the base of your nail bed
Following these 5 steps guarantees up to 14 days of wear on natural nails.
Shade Spotlight
Shade Spotlight Join our community - Tag your photos #EverydayZoya for a chance to be featured here!
View the Gallery
Ratings & Reviews
Summary:
13 Review(s)
Question(s) & Answer(s)
2/11/2018
Sooz
-Stratford, CT
-Love it!
In Love with Lola! Stunning metallic pink. I always receive compliments when wearing this shade. Can`t wait for summer as this is my favorite color for my pedicure.
9/2/2017
apwilson8572
-Southeastern PA
-Adore Lola
Like Lola so much that a year after 1st bottle, I bought a 2nd bottle in case Zoya stopped carrying. Second bottle is slightly redder than 1st bottle, but every bit as beautiful. My coloring is fair to medium cool. Lola looks awesome on fingers and toes. I don`t find it overpowering even at 65.
5/4/2016
MaddisonP
-Omaha,NE
-Lola
Lola is a gorgeous color! Bright neon pink, with a hint of blue shimmer. Reminds of "Barbie Pink". I get a lot of compliments when I wear this color & it makes me happy. The only reason I gave Lola 4 starts instead of 5 is because I have to put 4 coats on to build it up to full opacity. If it was 2, maybe 3 coats or less it would be a definite 5 star polish. Great for summer!!
8/17/2012
Chas
Location-Arkansas
Zoya Nail Polish | LolaLOVE!!
This is my first Zoya Polish and I LOVE IT!! It went on so smoothly and I love the color. Looked almost matte at first but when I put a top coat on it, it looked amazing. I will defiantly be purchasing more Zoya polishes.
7/31/2012
Heatherrrrrrrr
Location-NY
Zoya Nail Polish | LolaThe Perfect Barbie Pink
Obsessed!! Such a true neon pink that doesn`t require a lot of coats
7/2/2012
lydiangflash
Location-AustinTx
Zoya Nail Polish | LolaMaster Nail Technician
HOT... Most requested color by my clients.
4/20/2012
zoyafan
Location-New York
Zoya Nail Polish | LolaPerfect summer color
I love this color for the summer. It is bright, but not overly done.This is my favorite pink shade along with Trinity. Really looks nice with a tan. Gets your manicure and/or pedicure noticed! Zoya has the best polishes!!
1/31/2012
Valerie
Location-Columbus
Zoya Nail Polish | LolaWOW!
This is absolutely stunning! I had no idea how awesome Lola would be when I ordered her. Yes, she does appear a little matte when you apply her, but a top coat makes her stand out like you wouldn`t believe. I have received many compliments on this one.
12/20/2011
Erinkk
Location-Saline, MI
Zoya Nail Polish | LolaLOVE!
I have never had so many compliments on my nail color. Its my staple summer color.
11/2/2011
mcdelia
Location-Arlington, VA
Zoya Nail Polish | Lola duochrome too subtle
This is pretty, but the blue duochrome hardly shows up. It looks matte from most angles.
7/17/2011
claire
Zoya Nail Polish | Lola Love Lola!
Love, love, love Lola! Hot pink, very pretty and eye-catching. Looks great as a pedi, especially with a tan. My hubby even noticed this one saying, wow I like that! I like it much better than Lillith which has more red undertones. Lola is pink. I have a warm skin tone and it still looks great. Will definitely need a backup bottle.
6/10/2011
Rosie Sparkle
Location-Madison, WI
Zoya Nail Polish | LolaIn love
I`m absolutely in love with this color. It`s bright, neon pink, perfect for summer or for people who love to wear extremely loud nail polish. It`s a semi-matte finish, but the slight blue shine gives it another interesting layer. Definitely not boring!
4/25/2011
Mrsleonidas
Location-Indy
Zoya Nail Polish | LolaTHE Perfect Bright Pedi Color
This is a hair darker than Kiki.
Of course this one has a blue duochrome flash and Kiki just has the medium sized silver shimmers.
This is like an "amped" up version of La Positively Hot.
This and Kiki.....ROCKS!
Back to top