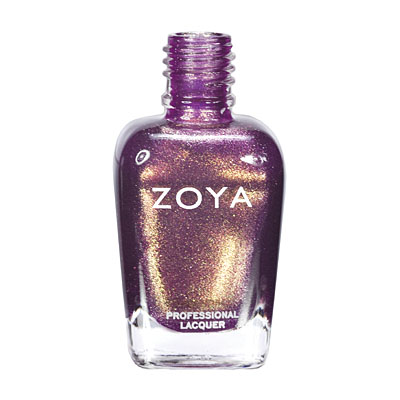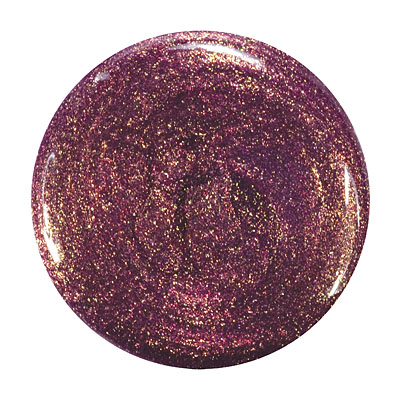 Description
Faye by Zoya can be best described as a bronzed mauve with purple and brown undertones flooded with bright gold sparkle. A unique gilded shade that will work in any season.
Nail Polish
Color Family:
Purple
Finish:
Metallic
Coverage:
2 - Coat Coverage
Tone:
Neutral
Instructions
For Best Results
Step 1: Clean the nail plate with Remove Plus ( Remove ) nail polish remover and nail plate cleaner
Step 2: Choose and apply the right base coat: Zoya Anchor for regular healthy nails or Zoya GetEven for nails with ridges
Step 3: Apply 2 coats of your favorite Zoya Nail Polish Color
Step 4: Apply a coat of Zoya Armor Top Coat
Step 5: Drop one drop of Zoya Fast Drops to the base of your nail bed
Following these 5 steps guarantees up to 14 days of wear on natural nails.
Shade Spotlight
Shade Spotlight Join our community - Tag your photos #EverydayZoya for a chance to be featured here!
View the Gallery
Ratings & Reviews
17

Review

s

Please sign in to write a Review



sacramurda
-Eastern Pennsylvania
Consumer Review
-Not my shade.
2018-01-10
So I originally bought Faye because I loved the purply mauve color and with the gold flecks as shown in the picture, I fell in love. Sadly, once it arrived, it was more gold sparkle than anything. Easy to say I was rather disappointed in this shade. But I am still quite the fan of Zoya products.
Clancy
-St Louis
Consumer Review
-Not what I expected
2017-01-24
Going with four stars because I still do like the color, but I was hoping that the purple would be more strong. I have been looking for a purple with gold color shift, but for this one, the purple is almost absent. I still do like the color on it`s own, and the consistency is amazing with no streaks and quick drying. It is pretty sheer, though. Takes 4-5 layers to really get it to stand out. Might be better as an overlay on a more opaque color.
Kelle23
-Marietta, GA
Consumer Review
-Almost looks dichroic
2017-01-19
This is a pretty polish. It`s unlike any I`ve got in that color family. Under lamp light it looks gold, in dim natural light the mauve undertone really comes out. Then in direct sunlight it`s more rose gold. This is my first time trying Zoya. Got five bottles and this is my first one trying. Nice spreadability, little slow on drying time. Took two coats to achieve coverage I wanted. No idea yet how it will hold up. I will apply a clear top coat to try and extend longevity.
SD
-Earth
Consumer Review
-Okay, just not for me
2016-12-17
Faye is much more of a very sparkly gold than I was expecting. Just a hint of purple if it is in the right light. Okay color, just not what I was looking for. My monitor shows a color with a lot of purple that is on the darkish side. In reality, it's not. Very sheer and much lighter in color. Based on other reviews, it is obviously a nice color for some, just wasn`t what I was expecting.
Glamgirl7
-Toledo, OH
Consumer Review
-Love this color!
2014-06-03
I get so many compliments on this color. Depending on the light, it either looks purple or gold. I have it on my toes now and actually had people approach me while in sandals asking about my color. It works all year long!!!
silverpiano
Consumer Review
Zoya Nail Polish | FayeThis is a must-have
2013-01-08
I have gotten so many compliments from women and men with this polish. If you are only buying one, this is the one to get! It has such a unique and un-cheap glittery pieces in it that people can`t stop staring at it under the light.
amannina16
Consumer Review
Zoya Nail Polish | FayeBeautiful!
2013-01-05
This color is gorgeous. It`s not dark, it has lots of bronze in it and it goes with everything. Love it!
Zoya Nail Polish | FayeMy favorite hands down
2012-12-12
This polish is phenomenal. Super sparkly and the color changes between gold and purple and all shades between. I`ve already given it to 2 friends because I love it so much.
Bestmonica
Location-North Brunswick, NJ
Consumer Review
Zoya Nail Polish | FayeNot at all what I expected - gold glitter
2012-09-19
The most pronounced thing is this polish is the gold glitter. This really looks like a gold - not a purple or mauve. Very, very glittery ( not the fine micro glitter - kind of gaudy, unfortunately).
liongirl22
Location-Spooner, WI
Consumer Review
Zoya Nail Polish | FayeLove this!
2012-09-02
I had to buy this polish for the name alone-my best friend`s name is Faye, and it`s one you don`t hear a lot. The color itself is gorgeous. I`m a huge fan of rose gold jewelry so this is right up my alley. I haven`t found any other nail polish companies who have a glitter/foil polish quite like this. The application is great! Impressed. :)
Serpentia
Consumer Review
Zoya Nail Polish | FayeOh. Em. Gee.
2011-11-25
Faye is one of those colors where you think, "no way could the stuff in the bottle be as beautiful as that color spoon." WRONG! Faye is even more gorgeous in real life. I have never seen anything quite like this color. It is simply sparkly, glittery, purpley-goldy-pinky fabulosity in a bottle! Flows well too; got to love it.
Zoya Nail Polish | FayeAwesome and unique
2011-11-18
Faye is my favorite Zoya color, hands-down. A nice medium purple color with strong copper-ish undertones and lots of sparkle. I get compliments every time I wear it, too.
LizSaysSo
Location-Boston, MA
Consumer Review
Zoya Nail Polish | Faye Gorgeous Gold
2011-10-17
Faye is a really beautiful taupey-raisiny shade, heavy on the gold shimmer. From the description, I was expecting a much stronger purple base, but I`m actually quite pleased to have a deep, slightly purple-tinted antique Fall/Winter gold neutral.
As far as opacity, I think it`s between a 4 and a 5, and I actually really enjoy it with just one layer. It`s more of a gold champagne color with a single coat, then a deeper bronzey gold with two.
Faye is the Fall/Winter match to my Spring/Summer favorite neutral gold, Jules!
bigfat_baby
Location-hnl
Consumer Review
Zoya Nail Polish | FayeFaye!
2011-09-20
Dark orchid purple packed with lots and lots of gold and bronze flecks. Super shimmery and super glittery.
Lindz
Location-ct
Consumer Review
Zoya Nail Polish | FayeBeautiful and Subtly Bold
2011-07-17
Honestly, I was the least excited to get Faye in the sunshine collection and I was very pleasantly surprised because it`s my favorite! The formula is the perfect mix of gold and purple. It goes on light with one coat, and perfect with 2. This color is funky but not obnoxious. I love it!
chestersmomma
Location-Indiana
Consumer Review
Zoya Nail Polish | FayeBeautiful, but misleading
2011-05-29
This color is beautiful! I was worried that it`d be really dark, since it looks like a deep plum and I already have some darker purples, but after three coats the effect is more of a light plum/bronze, with the gold really popping through. This color is perfect for all 4 seasons, with the gold standing out in spring and summer and the plum pulling forward in the fall and winter. I only gave it a 4 because it looks a lot darker online, but if you`re wondering what such a dark color is doing in a summer collection don`t worry and give this a try!
Zoya Nail Polish | FayeLovely Faye!
2011-05-22
Another surprising and unique color! Faye, to me, is beautiful golden sparkles and shimmers with a lovely plum that stands out most in direct sunlight. Very flashy and fun.
Add a Review
Review Guidelines
We want to publish your review.

Please avoid inappropriate language, personal contact information, other brands, and external links.