Page top
Skip top navigation
Professional Accounts
Licensed salon & spa professionals can set up a Professional Account which entitles them to professional only pricing, professional only promotions and additional educational and marketing resources available to our salon & spa customers.
If you already have a Professional Account with us, please sign in below with your email and password in the "Sign In to My Professional Account" section.
To create a Salon - Spa Professional Account, please enter your email and a valid Cosmetology License in the section called "Create a Professional Account" below and click the "Create Account" button. You will then be asked for additional information.
Sign In to Your Professional Account
Create a Professional Account
Welcome!
Please Choose One:
Or
Back to top
feedback
tell us what you think!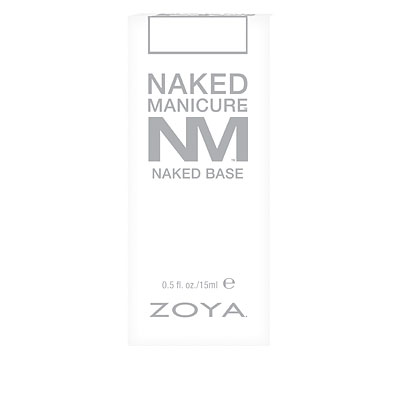 Naked Base
Zoya Naked Manicure
Naked Manicure Naked Base is a nutrient rich formula specifically created to refine the nail surface and to treat damage with a proprietary blend of vitamins, proteins, botanicals and sulfur amino acids that mimic the natural keratin structure of the nail. Supports cellular renewal, oxygenation and hydration improving both flexibility and strength.
1. Prep the nail by shaping, gently buffing and cleaning up cuticles.
2. Apply Naked manicure Naked Base (basecoat).
3. Select the Naked Manicure Perfector first coat. Use lavender for discoloration. If layering more than one shade, use the brighter/stronger shade first.
4. Apply the selected Naked Manicure Perfector second coat. If between shades, the second coat is for the color that softens or tones the base color.
5. Apply Naked Manicure Tip Perfector along free edge of the nail to brighten, fill and finish.
6. Activate Naked Manicure Satin Seal by gently rolling the bottle between hands for twenty seconds.
7. Apply one coat of Naked Manicure Satin Seal to blend, blur and seal the look creating the closest ever natural nail finish (compatible with fast drops).
8. For an optional shiny finish, apply one coat of Naked Manicure Glossy Seal over Satin Seal (compatible with fast drops.)
The NAKED MANICURE system works by instantly correcting cosmetic nail problems and delivering therapeutic benefits to nails long term. INSTANT RESULTS are obtained through the use of the NAKED MANICURE Perfectors. The six Perfectors use optical diffusers, keratin fillers, micronized reflective color pigments and micro thin film formers to create an ultra sheer veil which ensures that the natural vibrancy of the nail is enhanced rather than concealed. The Perfectors contain a proprietary blend of finely ground pigments, vitamins and botanicals that also help to promote micro-circulation and oxygen exchange. THERAPEUTIC BENEFITS are delivered through a meticulous blend of vitamins, proteins and botanicals carefully infused in the NAKED MANICURE Treatments and Perfectors that help improve the condition and appearance of the nail.
Shade Spotlight
Shade Spotlight Join our community - Tag your photos #EverydayZoya for a chance to be featured here!
View the Gallery
Ratings & Reviews
Summary:
2 Review(s)
Question(s) & Answer(s)
5/15/2017
Carrie
-PA
-Outstanding!
My entire life I have always had issues with my nails. Always short, weak, breaking, ridges & splitting. I ordered the mini pro kit so I could try each product out. It has been 7 weeks and I can tell you I have beautiful, healthy nails! No more splitting, no deep ridges. The only product in the pro kit I do not use is the white tip perfector (which is fine with me). My favorite two products are the Naked Base coat and the Lavender Perfector. It really is true what Zoya states, your nails look & feel better after ONE application! A MUST BUY! :)
3/30/2016
elle
-New York
-Outstanding.
I`ve been wearing nail polish non-stop for 30 years and this is the best base-coat I`ve ever used. I use one coat of this and one coat of the "pink perfector" and then 2 coats of regular nail polish and I`m astonished at how it`s changed my nails. It`s been 6 weeks now and my nails have stopped peeling. They are healthy. They are not stained. The BEST however is that it makes my manicure last almost a week without peeling. This product is AMAZING. Best nail product I`ve ever used.
Your Review of Naked Base
Back to top