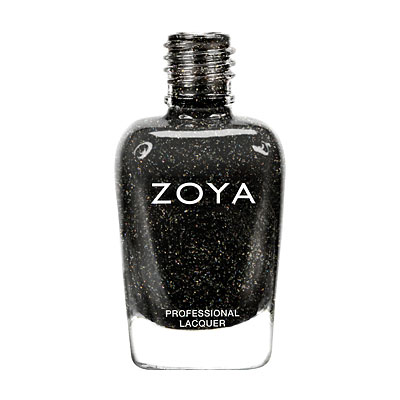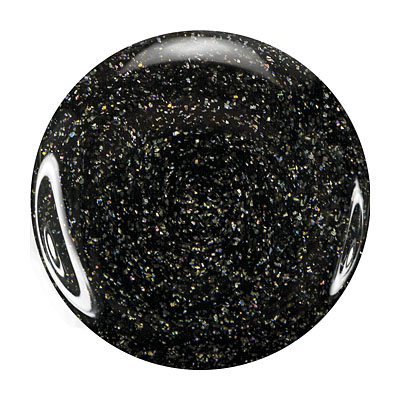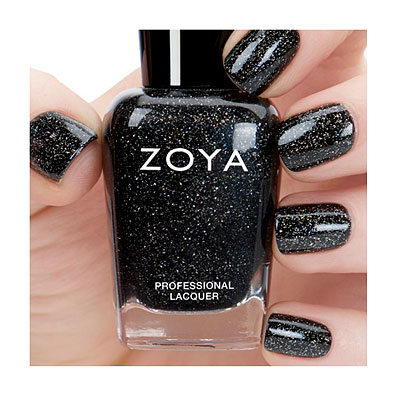 Description
Storm by Zoya can be best described as a full coverage, holiday black with a high concentration of micro fine diamond holographic glitter. Storm is elegant, powerful and versatile - try it as a French, Nude tip over Aurora or Blaze!
Nail Polish
Color Family:
Black
Finish:
Holographic
Coverage:
2 - Coat Coverage
Tone:
Neutral
Instructions
For Best Results
Step 1: Clean the nail plate with Remove Plus ( Remove ) nail polish remover and nail plate cleaner
Step 2: Choose and apply the right base coat: Zoya Anchor for regular healthy nails or Zoya GetEven for nails with ridges
Step 3: Apply 2 coats of your favorite Zoya Nail Polish Color
Step 4: Apply a coat of Zoya Armor Top Coat
Step 5: Drop one drop of Zoya Fast Drops to the base of your nail bed
Following these 5 steps guarantees up to 14 days of wear on natural nails.
Shade Spotlight
Shade Spotlight Join our community - Tag your photos #EverydayZoya for a chance to be featured here!
View the Gallery
Ratings & Reviews
15

Review

s

Please sign in to write a Review



maicardone
Consumer Review
-yoshiclaws
2017-03-17
Very unique and beautiful color. My only complaint is that unless yout nails are in direct/bright light the glitter is not very holographic/sparkly and kind of looks like plain white specks.
FabulousAnna
-Cincinnati, Ohio
Consumer Review
-better than I expected
2016-06-13
I am 46 and have always feared black nail polish until I discovered Storm after receiving it as a gift. The sparkles make it look classy and fancy like an expensive manicure and not too Gothic or witch-like. Dark colors look great on short nails so this is my year-round go-to when my nails are not as long as I prefer. It is a bit thicker than all my other Zoya colors but easily remedied with some polish thinner.
christinam
Location-mi
Salon Review
Zoya Nail Polish | Stormluv storm
2013-01-08
I luv this polish! I applied 2 coats, which applied very smoothly and was perfectly opaque. Looks better on in person than in pic :) Nice diversion from plain black.
I catch myself staring at my polish lol but thats the case with most zoya polishes. I will definately be wearing this color often. I painted all my nails (except ring fingers) storm and the ring fingers w elektra. looks amazing together
Seeduh
Location-CA
Consumer Review
Zoya Nail Polish | StormGreat black
2013-01-07
I don`t have many blacks because, it`s, well black. But this brought out black polish to a whole new level with the holos infused in the polish. The best part is? With topcoat, the polish didn`t even chip until the 5th day! Also, it removes easily, not what I expected from a polish with glitter in it.
BondGirl
Location-USA
Consumer Review
Zoya Nail Polish | StormSubtle but chic
2013-01-03
I liked this polish a lot, though I must say that the sample photograph shows more `sparkle`/holographic that I found to exist in real life... It`s a less harsh way to wear black/dark polish for certain. I found the formula to be a little thicker/gloppier than I would like but maybe I just got a bad batch... ?
quesolover
Consumer Review
Zoya Nail Polish | StormThe perfect color if you want to try black...
2012-12-19
but are afraid it will be too dramatic or harsh. The holographic micro-glitter makes it a much more wearable shade. More interesting than regular black too. Still dramatic, but less harsh. The picture of the mani is pretty accurate. If anything, it is prettier in person. Two coats were plenty. A bit easier to remove than the typical zoya glitter polish.
100rose001
Location-Utah
Consumer Review
Zoya Nail Polish | StormLove this color!
2012-12-15
I have avoided blacks because I thought they were too "edgy." This has so much silver glitter that it sort of takes the edge off and makes it more playful. The holo is subtle but really beautiful. Reminds me of a dark night sky.
Nickie
Location-Brooklyn, NY
Consumer Review
Zoya Nail Polish | StormLove it!
2012-12-12
I don`t usually wear black polish but in 2 coats (plus a top coat) Storm shines beautifully. The glitter adds the perfect touch to make this polish pop!
Zoya Nail Polish | StormThe Most Fabulous Nail Polish I`ve Ever Own
2012-12-12
I cannot describe how enchanted I am with this one. The color is fabulous. It has lots of sparkles and depending on the light it`s either sparkles silver or multicolour metallic. very shiny and smooth. I put three coats and it is still pretty good after four days (without a top coat). Don`t know how easily it removes but I`m very, very happy with this one. Great for the season.
Mimi
Location-Virginia Beach, VA
Consumer Review
Zoya Nail Polish | StormStorm is very unique
2012-12-11
Storm is a unique black with holo shimmer that is absolutely gorgeous. The consistency was a bit thin but still managed to be opaque in 2 coats (3 for good measure).
jakiescool
Location-California
Consumer Review
Zoya Nail Polish | StormAmazing
2012-11-22
So beautiful in the light. Put it on the second I bought it and got so many compliments on it!
Zoya Nail Polish | StormMild Storm
2012-11-16
Unfortunately, Storm isn`t what I consider to be holographic nail polish. The best way to describe it is mild. When I look at my nails in indoor lighting, the holographic microdiamond glitter seems to fall flat. I don`t see the depth and dimension with storm because it`s not that noticeable. Out of the whole Ornate collection, the most holographic effect came from Aurora with Blaze coming in second. Overall, it`s a nice fun collection.
Zoya Nail Polish | Stormvery pretty
2012-11-13
In the sunlight, rainbow holographic glitter definitely shows up. Indoors, Storm looks like it has silver glitter. Either way, a very glossy and pretty polish!
Zoya Nail Polish | StormAbsolutely beautiful
2012-11-09
I adore this polish and it has definitely earned its place on my favorites shelves. The application was wonderful and though one coat gave solid coverage, I did two just in case. The tiny holographic glitters really make this polish and when I look at my nails from far away, they have an overall holo sheen which is really delightful. Everything about Storm really is amazing and I would encourage my friends to get it.
meouch
Location-Austin, TX
Consumer Review
Zoya Nail Polish | StormZoya Storm
2012-10-31
Saw a swatch of this online and had to buy it! First coat was sheer but two sufficed(three made it perfect). Great formula and lasted for days with a topcoat. The holo is subtle but looks like a galaxy!
Add a Review
Review Guidelines
We want to publish your review.

Please avoid inappropriate language, personal contact information, other brands, and external links.