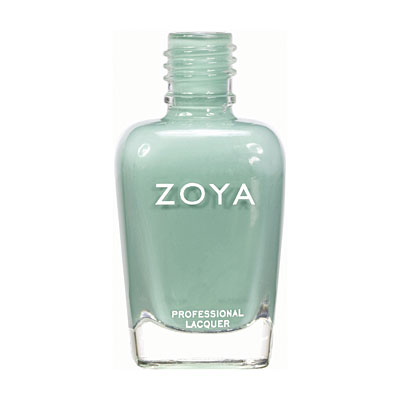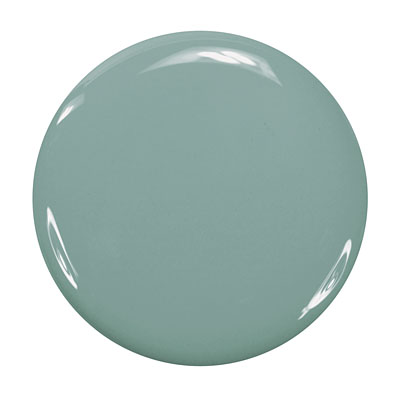 Description
Wednesday by Zoya can be best described as a faded dirty medium turquoise with green undertone and an opaque cream finish. A very stylish shade with a funky yet easy to wear vintage look.
Nail Polish
Color Family:
Teal
Finish:
Cream
Coverage:
2 - Coat Coverage
Tone:
Warm
Instructions
For Best Results
Step 1: Clean the nail plate with Remove Plus ( Remove ) nail polish remover and nail plate cleaner
Step 2: Choose and apply the right base coat: Zoya Anchor for regular healthy nails or Zoya GetEven for nails with ridges
Step 3: Apply 2 coats of your favorite Zoya Nail Polish Color
Step 4: Apply a coat of Zoya Armor Top Coat
Step 5: Drop one drop of Zoya Fast Drops to the base of your nail bed
Following these 5 steps guarantees up to 14 days of wear on natural nails.
Shade Spotlight
Shade Spotlight Join our community - Tag your photos #EverydayZoya for a chance to be featured here!
View the Gallery
Ratings & Reviews
20

Review

s

Please sign in to write a Review



HotDesertBloom
Consumer Review
-Scratches off
2018-04-09
Our Wednesday bottle always scratches off with ease no matter what we do to our nails. None of us (3 people) can wear it for more than a day without it looking bad. Beautiful color though.
catherine.vieth
Consumer Review
-Lovely bluey-teal
2014-06-09
A blue-green kind of teal, dries slightly darker than it showed up (on my screen--could be different on another screen). I`ve yet to find someone who this color doesn`t look good on. Unconventional, sure, but two coats (or one thick one) looks good.
Polish Maven
Location-Peach State
Consumer Review
Zoya Nail Polish | WednesdayMy New BFF
2012-12-29
Wednesday is now my new favorite ZOYA shade. It is amazing. Super creamy, easy to apply. The swatch shown online is true to color. Unique teal/jade/turquoise color that is breathtakingly beautiful. I can not see anyone being disappointed in this gem of a polish.
Nickie
Location-Brooklyn, NY
Consumer Review
Zoya Nail Polish | WednesdayGreat color!
2012-12-12
Beautiful sea green color. Have had it on my toes 2 weeks with a pedicure and it is durable! I think it`s brighter in person, not as muted as it looks in the picture but definitely a great spring/summer addition when I`m tired of pinks & purples!
Frankie
Location-Buffalo, NY
Consumer Review
Zoya Nail Polish | WednesdayBeautiful Tourquoise/Teal
2012-12-04
I LOVE Wednesday! Like all Zoya colors it lasts forever. The color is rich and goes on smooth. I always get compliments on this color when I wear it, never fails!
Zoya Nail Polish | WednesdayI Love Wednesday
2012-09-26
Hands down one of my favorite Zoya polishes. A unique shade of creamy teal/turquoise that applies super-easy. I highly recommend!
Gabbie
Location-Florida
Consumer Review
Zoya Nail Polish | WednesdayThis is the color that turned me onto Zoya!
2012-09-22
I originally saw a post on facebook from a friend about Zoya- And this color instantly caught my eye! I waited for the collection to be released and ordered it right away. It really is a beautiful color for summer! I wore it on my toes while on vacation to Sanibel Island, FL and my fiance still associates the color with the trip. Anytime I wear it, he brings up how much fun we had, haha.
thisgirldrea
Consumer Review
Zoya Nail Polish | WednesdayMy new fav!
2012-07-29
Love the color and coverage.
Zoya Nail Polish | WednesdayFun Summer Color
2012-07-17
Such a fun summer color, it`s one of my favorites! I have more of a lighter skin tone and my daughter is more tan and it looks great on us both.
Zoya Nail Polish | WednesdayTons of complements
2012-07-16
Goes on slightly darker than the pic (I`ve found this is a trend with many Zoya colors). Opaque in two coats, great color, and I get TONS of complements when I wear it.
trackster
Location-Eugene, OR
Consumer Review
Zoya Nail Polish | WednesdaySo pretty!
2012-07-06
No staining!!! Amazing for a blue. Its a light aqua green-blue-y color, and looks good on my medium tan skin as well as most skin tones, my friends and i have found. Opaque in one or two coats! Zoya`s formula is great and many people think they`re gel nails done at a salon. Ssshh, its my little secret! ;)
i highly suggest any zoya polish, I think all the colors are great.
MJ
Location-DC
Consumer Review
Zoya Nail Polish | WednesdayAmazing light blue
2012-07-05
This definitely has less gray than the image would lead one to believe. It looks amazing on my medium skin and is perfect for summer or whenever. I absolutely love this shade!
Zoya Nail Polish | WednesdayGorgeous
2012-07-01
Love, love, love it! I`m still new to doing my own nails so easy application is key. This one`s got it all. It`s slightly darker than the green in mint chip ice cream. Slightly greener than the color spoon. My new favorite color!
Lyssa
Location-LA, California
Consumer Review
Zoya Nail Polish | WednesdayBeautiful
2012-07-01
I just ordered this color and it is absolutely stunning! Definitely a great spring/summer shade.
And as for the polish itself, I put this on with no base or top coat just to see how long it would last. That was on Wednesday and now on Sunday there are 3 barely noticeable chips on my left hand (unless you`re looking for them you wouldn`t know they exist) and 2 tiny chips on my right hand. This was my first experience with Zoya polish but it`s definitely not going to be my last if all their polish is as high quality as this one is.
MBing
Location-Louisville, KY
Consumer Review
Zoya Nail Polish | WednesdayMy summer color
2012-06-25
Gorgeous color, perfect for summer. Looks like I have Turquoise jeweled toes!
Zoya Nail Polish | WednesdayTealer than I thought
2012-06-20
I bought this because I thought it was going to be a very pale blue--almost white. This is TEAL.
Zoya Nail Polish | WednesdaySo pretty
2012-06-20
Such a pretty green/turquoise! Goes on completely opaque with two coats. Muted enough for the office, but stands out!
itsmeket
Location-Ma
Salon Review
Zoya Nail Polish | Wednesdaynail polish
2012-06-03
The color is just like it shows on the site. It glides on nice and looks pretty.
Zoya Nail Polish | WednesdayVery pretty!
2012-05-04
Wednesday jumped out at me right away because of its softness and unique color. It is far more beautiful in person! I have a large nail polish collection, and I love that Wednesday looks nothing like anything I already have. I look forward to wearing it a lot this summer. Very pretty!
Zoya Nail Polish | WednesdayFinally!!
2012-04-05
Love this jade/turquoise shade and thrilled to finally see a new shade from zoya. Too many hot pinks, purples etc. Fantastic!!!
Add a Review
Review Guidelines
We want to publish your review.

Please avoid inappropriate language, personal contact information, other brands, and external links.