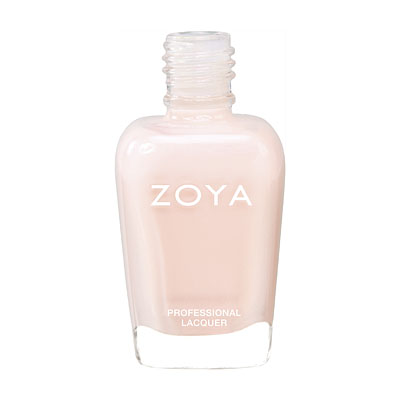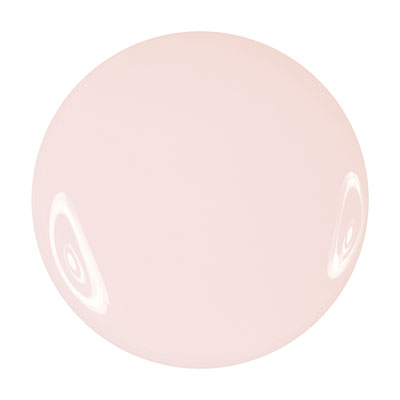 Description
A pale shade of cherry blossom pink with a soft cream finish.
Nail Polish
Color Family:
Nude
Finish:
Cream
Coverage:
2 - Coat Coverage
Tone:
Cool
Instructions
For Best Results
Step 1: Clean the nail plate with Remove Plus ( Remove ) nail polish remover and nail plate cleaner
Step 2: Choose and apply the right base coat: Zoya Anchor for regular healthy nails or Zoya GetEven for nails with ridges
Step 3: Apply 2 coats of your favorite Zoya Nail Polish Color
Step 4: Apply a coat of Zoya Armor Top Coat
Step 5: Drop one drop of Zoya Fast Drops to the base of your nail bed
Following these 5 steps guarantees up to 14 days of wear on natural nails.
Shade Spotlight
Shade Spotlight Join our community - Tag your photos #EverydayZoya for a chance to be featured here!
View the Gallery
Ratings & Reviews
7

Review

s

Please sign in to write a Review



-Exactly what I was looking for.
2016-01-16
If you are looking for a sheer soft white, this is it with two coats. It doesn`t look pink on my nails Just a hint of peachy-pink so that it is a soft warm white on my nails. Gorgeous and I can`t stop looking at it.
ad
Location-illinois
Consumer Review
Zoya Nail Polish | Laurieclassic
2012-03-19
this color is lovely and very flattering against my fair skin. it is a slight bit cooler than i anticipated by i still love it. laurie is a must-buy!
ManaQueen1
Consumer Review
Zoya Nail Polish | LaurieNot true to color, completely sheer
2012-01-18
I thought a 3 on the opacity scale meant a little sheer. It`s practically a clear polish. I got this looking for a nice petal pink, but after two coats it`s so white I can barely tell there`s any pink to it, and it`s STILL see-through after a third coat! I`m going to look up if there`s a return policy.
Zoya Nail Polish | LaurieLOVE IT LOVE IT
2011-12-26
This color is absolutely gorgeous. When I was wearing it I really couldn`t stop staring at my nails!! It`s just the right amount of pink but still kind of white at the same time. Only two coats needed for me--I really hate having to do more than one or two coats. When this bottle runs out I will for sure re purchase!!
Laurie
Location-St. Louis, MO
Consumer Review
Zoya Nail Polish | Laurie Great for a french manicure.
2011-07-01
I admit that I only bought Laurie because we have the same name. I`m more of a wild child when it comes to my polish colors. But this is THE perfect shade for a french manicure. It gives just enough blush to tone down the white tip, but it still allows the white to shine through. So glad I bought it!
Jen H.
Location-Scranton, PA
Consumer Review
Zoya Nail Polish | LaurieA surprise favorite
2011-05-11
Laurie is one of the few light pink shades that I can wear next to my very fair skin that looks pretty, not ghostly. This is a very light pink.
I find that I need to go with either one coat or three coats with Laurie. One coat is pretty and quite sheer. But, I like the color of this polish with when it reaches opacity. Very feminine, professional, and versatile.
Brenda
Location-New York, NY
Consumer Review
Zoya Nail Polish | Lauriepretty pink
2010-06-10
This is a pretty pink to wear alone or for a french manicure. 2 coats to achieve opacity.
Add a Review
Review Guidelines
We want to publish your review.

Please avoid inappropriate language, personal contact information, other brands, and external links.