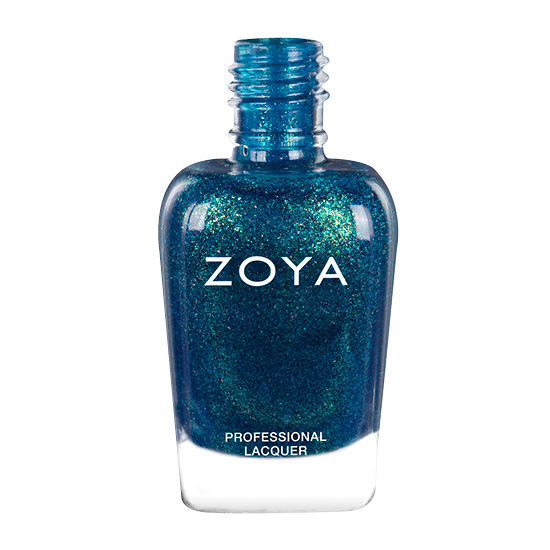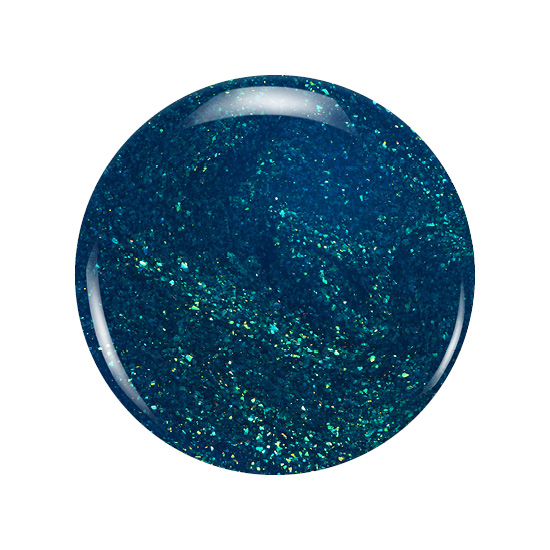 Description
Charla by Zoya can be best described as a tropical blue sparkling metallic. The ultimate mermaid nail shade!
Nail Polish
Color Family:
Blue
Finish:
Metallic
Coverage:
2 - Coat Coverage
Tone:
Cool
Instructions
For Best Results
Step 1: Clean the nail plate with Remove Plus ( Remove ) nail polish remover and nail plate cleaner
Step 2: Choose and apply the right base coat: Zoya Anchor for regular healthy nails or Zoya GetEven for nails with ridges
Step 3: Apply 2 coats of your favorite Zoya Nail Polish Color
Step 4: Apply a coat of Zoya Armor Top Coat
Step 5: Drop one drop of Zoya Fast Drops to the base of your nail bed
Following these 5 steps guarantees up to 14 days of wear on natural nails.
Shade Spotlight
Shade Spotlight Join our community - Tag your photos #EverydayZoya for a chance to be featured here!
View the Gallery
Ratings & Reviews
37

Review

s

Please sign in to write a Review



Dana
-San Jose, CA
Consumer Review
-Gorgeous, more teal than blue
2019-04-18
I love the sparkles and the shifting mermaid colors. I`d say it`s more of a greenish marine teal than a true blue (it was much greener than I`d anticipated from the photos on the website...still incredible though). I can`t wait to do a mermaid scale look with this color!
Mel
-Florida
Consumer Review
-Charla dazzles
2018-05-30
Don`t take my word for how intense and changing this gorgeous teal glitter polish is. read the other reviews. I love it!!!!
Brittany
-Michigan
Consumer Review
-So Beautiful!
2016-06-28
I love this color! A nice mix of blue and green shimmer. Looks very beautiful, and applies really nicely.
Erica
-Dallas, TX
Consumer Review
-Such a rich turquoise-green!
2014-06-02
I knew when I bought this it would be one of my favorite turquoises...and it is. It is totally gorgeous under lamplight and under sunlight, it is dazzling. I needed three coats for pure opacity, but I was okay with that...I usually do thin coats so it was okay and I`m used to that with Zoya. Great, great color and I love it!
lssj1223
Location-Florida
Consumer Review
Zoya Nail Polish | CharlaLOVE THIS!
2012-12-27
Blues are my weak point and this one really gotta love it. Beautiful and glittery. Glides on smooth. You won`t be disappointed.
Zoya Nail Polish | CharlaBeautiful!
2012-12-17
This is really a stunning color - when I wore it, it would always cheer me up just to look at it! Right in between green and blue, with great shimmer. Went on nicely and stayed a long time.
Zia!
Location-NY
Consumer Review
Zoya Nail Polish | CharlaDazzling
2012-10-08
I used to be pretty conservative when it came to nail polishes. Reds, pinks, browns.... Until I discovered Zoya... Charla looked so beautiful on my nails, I couldn`t stop looking at it. It looks more green than blue. Actually a mix of both colors, like a peacock color. Just amazing! Two coats did the trick. I didn`t put any base and this color did stain my nails. However, buffing took care of the stains and next time I will use the base coat. One of my favorites!
ITSMYUNBIRTHDAY
Location-spokane, wa
Salon Review
Zoya Nail Polish | CharlaOne of my favorites in my collection!
2012-09-19
The pictures on here don`t even come close to how amazing the color actually is. It really is awesome! Very stunning and full of intense sparkles. You won`t regret it if you buy it!
Thirtythree
Consumer Review
Zoya Nail Polish | Charlagreeny
2012-09-14
Like other reviewers- it`s definitely a lot more green that the picture shows. When the bottle arrived I was disappointed but when I put it on -it is amazing and I`m really glad I got it! Beautiful color.
Zoya Nail Polish | CharlaLike a peacock in a bottle
2012-09-09
I am complimented on this color every single time I wear it. It looks so pretty. Definitely my very favorite Zoya shade!
Zoya Nail Polish | CharlaA great Mermaid-y color
2012-09-01
This polish, while gorgeous, is definitely more green than blue. Perfect application, beautiful fine glitter, but I wish it was a bit more blue.
Zoya Nail Polish | Charlamermaid-y perfection
2012-08-28
I am a sucker for anything turquoise. I always get complimented when I wear this polish and it is one of my go-to colors. It definitely has more green than I expected, but that is mostly because of the glitter. Still a gorgeous color!
Jenny
Location-Florida
Consumer Review
Zoya Nail Polish | CharlaCharla is amazing
2012-08-25
Every time I wear this color I get compliments. It is probably my favorite Zoya color I own (so far). It matches my bathing suit too which is nice.
Zoya Nail Polish | Charlaa mermaid`s touch!!!
2012-08-20
I absolutely love this color! This is by far one of my all time favs. It literally looks like zoya captured mermaid essence...and put it in a polish. Thank you thank you, zoya!!
emnems22
Location-Southern California
Consumer Review
Zoya Nail Polish | CharlaGorgeous
2012-07-22
Charla is a stunning color. It is exactly "an expensive-looking shade for summer." I do wish that it was a bit lighter, more aqua/turquoise because it is a tad bit dark for my liking. GORGEOUS, nonetheless. The removal is horrid, though. The blue stained my nails and fingers and was a you-know-what to get off. The sparkles were everywhere, and, yeah. No fun to take off. But, if you are a blue lover, and a sparkle lover, you can`t go wrong with Charla!!
Zoya Nail Polish | CharlaCharla
2012-05-12
I put this polish on tonight and it is blowing my mind! If I die in a fiery car crash tomorrow you will all know that I went out happy staring at my beautiful sparkly fingernails!
Gylentia
Location-Ohio
Consumer Review
Zoya Nail Polish | CharlaOh wow it sparkles
2012-03-23
This is my all time favorite zoya. She`s blue and then there`s enough green in her that in some lighting she flashes green. For how much glitter is in her, I`m still amazed how smoothly she goes on.
Zoya Nail Polish | Charla gorgeous, glamorous, and fun
2012-01-27
charla is an absolutely beautiful teal polish that i love to wear. two coats make it opaque, but i think you can get away with one. the glitter doesn`t have that rough texture that glitter polishes tend to have, and it goes on super smooth. it`s gorgeous, glamorous, and fun all at once! i would recommend this polish to anyone and everyone.
Zoya Nail Polish | CharlaBeautiful Color
2012-01-23
This color is gorgeous! The polish stains terrible. My nails were very blue when I removed the polish.
Zoya Nail Polish | CharlaAmazing!
2012-01-15
Charla is an amazing color. She doesn`t chip easily, but she is much more teal than the picture shows.
Lindsay
Location-Rhode Island
Consumer Review
Zoya Nail Polish | CharlaCharla is my new favorite!
2011-12-29
This color is beautiful. Be aware that she is WAY more teal than the swatches on this website, but she`s gorgeous. I`ve never owned such a vibrant and unique color. I`m going to keep Charla on for a looong time! I can`t see myself ever getting bored with her. I highly recommend.
Ace
Location-La Jolla CA
Consumer Review
Zoya Nail Polish | Charlabest sparkle polish EVER
2011-08-03
This and Ivanka are mesmerizing! So bright it`s unbelievable. Especially in the sun. Swoon...
Zoya Nail Polish | CharlaBeautiful
2011-07-31
I read the other reviews and those ladies nailed it. It`s a deep fun blue with a hint of green. It`s now in my top 3 favorites, and I have over 20 zoya polishes. I would recommend this to anyone, especially fair skinned gals like myself. I can`t stop staring at my hands :)
Zoya Nail Polish | CharlaCharla is beautiful
2011-07-18
This is a really beautiful, perfect teal color, just slightly more blue than green, with a flash of gold in the sparkle. It somehow always looks like you are seeing it under water with the sun shimmering on it. A really unique, fun shade, especially for summer.
Candy
Location-CT
Consumer Review
Zoya Nail Polish | CharlaBeautiful!
2011-06-29
this is such an awesome blue! i love the sparkles! now i need to get my hands on Ivanka!
under direct sunlight charla is super sparkly and the color changes under different lighting. i get compliments every time i wear this color.
lola
Location-Central Jersey
Consumer Review
Zoya Nail Polish | CharlaAMAZING JEWEL TONE COLOR
2011-06-19
What can I say?!... Charla is an AMAZING jewel tone with super-duper pigmentation/color payoff. Just got it yesterday and did my pedicure using it last night and woke up to toes that literally look like treasures plucked from a pirate`s booty!!! I am in LOVE with this color!
VivifromtheOGM
Consumer Review
Zoya Nail Polish | CharlaAwesome
2011-06-07
Gorgeous color, I love it.
SuperTofu
Consumer Review
Zoya Nail Polish | CharlaThe most gorgeous color I`ve ever owned
2011-05-13
The other reviewers are right: Charla looks just like a mermaid. This color is so vivid and sparkly, and it`s even more gorgeous than the online photo shows. Definitely the best color I`ve ever purchased. It took two coats for full opacity, and I used a base coat and had no nail staining. I HIGHLY recommend this color!
Jill
Location-Nebraska
Consumer Review
Zoya Nail Polish | CharlaPrettiest nail polish EVER
2011-04-27
This nail polish is gorgeous! A base coat is a must though as this polish stained my nails blue when I didn`t use base coat! lol.
Kari
Location-Florida
Consumer Review
Zoya Nail Polish | CharlaCharla`s Angel!
2011-04-12
I`m a huge fan of this gorgeous color. I definitely concur with the other reviewers, this color reminds me of a mermaid`s scales. It sparkles like a dream and even my hubby who is usually unimpressed by polish loves this one on me. I prefer 3 coats for optimum opacity. It amazes me that a color with so much glitter goes on so smoothly. None of the rough texture you`d expect from a glitter polish, even without a top coat. Charla is a winner!
Raina
Location-NY
Consumer Review
Zoya Nail Polish | CharlaEyecatching!
2011-03-21
absolutely one of my favorites. greenish aqua blue, very sparkly and fun! one or two coats = opaque.
Zoya Nail Polish | CharlaGorgeous, but staining
2011-02-04
Charla is bluer in the bottle and greener on the nails, but still a very beautiful teal metallic!
My only problem was that when I tried to take it off after 5 days of wear, I had to *scrub* and was still left with traces around my nail edges and bits of glitter on the nails, plus the blue-green had stained my nails and the surrounding skin during my efforts to remove it. So it`s a lovely color, but definitely don`t be planning to wear any sheers or nudes for your next manicure after this one!
StacyJ
Location-Kalamazoo, MI
Consumer Review
Zoya Nail Polish | CharlaYowza!
2010-07-24
Fun, sparkly, prismatic teal nail polish that covers very well in 2 coats. I love this shade!
Furbert
Location-USA
Consumer Review
Zoya Nail Polish | CharlaCharla is a mermaid
2010-07-01
A truly beautiful, mermaidy blue! It does take 3 coats, but it`s totally worth it. Mesmerizing.
Brenda
Location-New York, NY
Consumer Review
Zoya Nail Polish | CharlaYou HAVE to buy this NOW!
2010-06-10
For anyone who loves ultra sparkly or teal colored polishes, you CANNOT pass this up! Like the other reviewer said, you won`t be able to stop staring at your nails because the color is really that gorgeous. Unlike the other polishes in this collection that took 3 coats to be opaque, I only needed 2 with Charla.
blue&greenjunkie
Location-Morris Plains - NJ
Salon Review
Zoya Nail Polish | CharlaThe Most Spectacular Blue in the World!
2010-05-19
I have never seen anything like the finish of Charla. It's like this ultra fine smooth glitter that creates kind of a holographic finish. Truly I have never seen a finish like this befor. This is a must for blue lovers.
Styrch
Location-Springboro, OH
Consumer Review
Zoya Nail Polish | CharlaThe Mermaid You Were Looking For
2010-05-14
Charla is a standout Zoya polish. She has incredible sparkle and is just a joy to wear. You can't go wrong with this one. This one has a lot of depth. Be prepared to be staring at your nails all the time if you're wearing Charla on your tips!
Add a Review
Review Guidelines
We want to publish your review.

Please avoid inappropriate language, personal contact information, other brands, and external links.