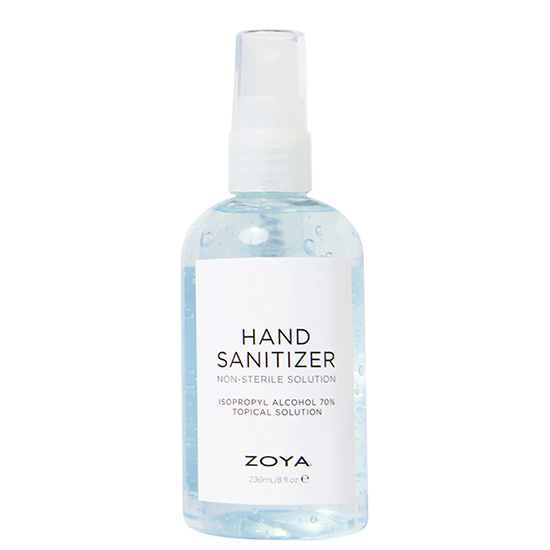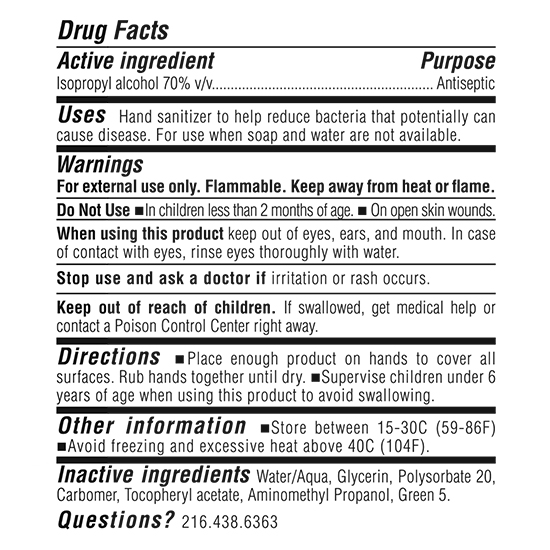 Zoya Hand Sanitizer 8oz w/ Sprayer
Description
Hand Sanitizer by Zoya is a 70% Isopropyl Alcohol Topical Solution Gel which looks and feels like a traditional hand sanitizer gel formula. Our formula includes Vitmin E and conditioners to help maintain condition of skin. Zoya Hand Sanitizer is manufactured and filled daily in our Bedford, Ohio facility. Our hand sanitizer gel is registered with FDA and conforms with hand sanitizer requirements. For ingredient listing please see the ingredients tab or the label picture.
Important
Due to limited ingredient and component supply we are prioritizing all first responder and health-care orders. If you require larger quantities for your business please email all requests to
sanitizer@artofbeauty.com
or text our team
216-259-8477
Instructions
Pump, Squeeze or Spray enough product on hands to cover all surfaces. Rub hands together until dry.
Ingredients
Active ingredient
Isopropyl alchohol 70% v/v (Antiseptic)
Inactive ingredients
Water/Aqua, Glycerin, Polysorbate 20, Carbomer, Tocopheryl acetate, Aminomethyl Propanol, Green 5
Shade Spotlight
Shade Spotlight Join our community - Tag your photos #EverydayZoya for a chance to be featured here!
View the Gallery
Ratings & Reviews
10

Review

s

Please sign in to write a Review



Michigan RN
Consumer Review
-Great product
2020-08-22
This is my favorite hand gel. It is light, effective, not greasy or sticky feeling, and it smells good. Well worth the money.
AsYouWish
Consumer Review
-fragrance-free!
2020-08-21
I love having found a fragrance-free hand sanitizer. Yes, you will get the smell of alcohol. Nothing to do about that and it goes away quickly. This product also has glycerin in it. I have not used it a lot but that does seem to help mitigate the problem of using so much alcohol. Zoya`s hand sanitizer is much better quality than another company I tried, who was also doing a "we normally make cosmetic problems but are now adding this to our line." This feels cleaner on my hands than the other.
I`m writing this the same day as having gotten the e-mail informing customers of the larger quantity bottles and bundles now available. Haven`t priced it out by ounce, but it sounds worthwhile for looking into for classrooms or offices. It`s very possible that there are cheaper products out there, but almost every single one has fragrance--sometimes a lot of it--so if you`re buying for a group of people or will be around others when using it yourself, please consider getting something that won`t cause problems for your colleagues or students who have sensitivities or allergies.
rhinogirl
Consumer Review
-LOVE this product
2020-08-21
I hate hand sanitizers but this product has changed my mind. It isn`t thick and doesn`t stink. I carried it on vacation. Fantastic product and I wouldn`t hesitate to recommend.
-LOVE THIS!
2020-08-17
hands feel clean, not sticky, pump doesn`t clog, no weird smell - I keep buying it & giving it to friends!!!! small size is perfect for purse!
Tonywt1
-Best Choice
Consumer Review
-The Best Ever
2020-07-31
??Free ZOYA Summer Color Chart 2020 ?? and Free Hand ?? ?? Sanitizer from #Zoya and #ArtOfBeauty ?? First time trying spray hand Sanitizer Really love using it. The scent vanishes quickly leaving hands clean and Oder free. Thank you very much ZOYA and Art of Beauty ??

-Too Sticky!
2020-06-18
I was very disappointed in this hand sanitizer. I spent over $70 buying this sanitizer based on my familiarity with other Zoya products. I am stuck with a huge investment in a product I will not use. The sanitizer goes on smooth, then gets gummy a few seconds after application. Eventually it will dry with a little residual tackiness. BUT, don't get your hands wet or pick up anything wet because your hands will be so slippery you can't grip anything. I must use soap and water to remove the sticky feeling. My sister and my husband both dislike this hand sanitizer as well. Very disappointed, I would not recommend this product.
-Love this sanitizer
2020-06-01
I love that it`s unscented because I`m bothered by many fragrances. And it`s quite moisturizing. The pump is convenient.
cali_xhica
Consumer Review
-Alicia Jacobo
2020-05-15
Pump hand sanitizer is sticky. Kind of a gross feeling. Spray version is much better.
sunburntgalaxy
Consumer Review
-Best hand sanitizer I have found
2020-05-14
I am extremely sensitive to fragrances - usually I get a headache from any hand sanitizer I purchase. I saw that Zoya was making hand sanitizer and it was actually available so I purchased some, thinking it would be fragranced and give me a head ache too, but at least I would have some (though there is no mention on scent on the site a lot of hand sanitizers don`t state they are scented). To my surprise when I got it and tried it (just to judge the smell) my hand just smell like, well, hands - no obnoxious scent when dry, and just the clean smell of alcohol when wet. Thank you SO much for making this and making it fragrance free - I hope you keep carrying this even after the crisis passes because it will be my go to from now on. I honestly can`t tell you how much I appreciate it as someone who gets headaches from most things these days.
-Thank you Zoya!
2020-05-06
Great sanitizer! If you have issues with pump as I did, Youtube "Easiest way to open a lotion pump" and it worked! Be safe everyone!

Add a Review
Review Guidelines
We want to publish your review.

Please avoid inappropriate language, personal contact information, other brands, and external links.